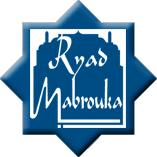 More reviews from Ryad Mabrouka's guestbook
Tom and Jennifer - Oakland - California
Jennifer and I had an absolutely wonderful saty. The meals were wonderful and some of the best we have had over the past two weeks either in Morocco or Spain. Eveything was perfect, what a beautiful country. Looks a lot like California. Hope we make it back soon.
R & S - England
Beautiful and stunning riad ! Wonderful staff. Georgeous cat and excellent masseur. Most enjoyable. Thank you !
Alex & Maria - Deutschland
Nach einer wunderschönen Woche hier im Riad Mabrouka nehmen wir Heute Abschied. Was uns besonders berüht hat - abgesehen von der herrlichen Umgebung und dem besonders leckeren Essen - sind die Menschen, ihre Herzlichkeit und Offenheit. So fühlten wir uns willkommen und haben gleichermassen einen Einblick in die Kultur erhalten. Mir der allerbesten Wünschen für das neue Jahr verbleiben wir.
Denise & Bernard - Paris & Angers
Nous avions programmé un tour du Maroc avec pour point d'orgue F&ès pour terminer ce voyage. Nous ne sommes pas déçus ! Dan un gîte fassi élégant nous avons été accueilli par un couple français chaleureux et un personnel d'une gentilesse extrème. Petite attention particulière le dîner de fin d'année était très soigné... Bravo, nous rentrons encore une fois du Maroc, heureux!
Maurilla, Piero, Auro, Guido - Italia
Siamo li quattro amici e veniamo de Roma e Perugia. Il posto è magnifico ed il servizio eccelente. Verebbe la voglie di passare un po piu di tempo. Spero che potremo tornare presto. Complimenti.