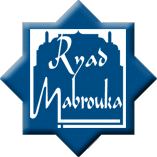 A responsible riad in Fez

Every year since 2010 Ryad Mabrouka has obtained the "Green Key" label confirming its sustainable management.
What we do :
-Monthly record of water and electricity consumption in order to continuously improve energetic performance and control possible water leaks.
-Put documents and small boards in each room and bathroom to encourage energy saving (example : towels change on request).
-Bathrooms are equipped with water saving devices (tap aerators, eco-flush...).
-We sort waste for recycling (wood, metal, glass, plastic bottles...).
-We compost our garden waste, we do not use any chemical pesticide (replaced by black soap and water).
-We grow plants which require less water. -We use a wood stove in the "salon marocain" in which we burn only our own wood from the garden and some paper waste ..
-We propose bicycles for rent and encourage slow travel in Fez!.
-We have equiped the riad with low consumption bulbs (90%) and and we are progressively moving to led lights.
-Strict control of the natural air cooling system from the garden to the rooftop to reduce the use of airconditionning during the hot season.
-Education of our staff to sustainable practices.
-We provide information on local biodiversity (flora, birdwatching).
-Our cook uses local and mostly seasonal products (no imported food).
-We collect rain water on the terrace.
-We collect water produced by some air conditioners for ironning !!
-We use local craftmen.